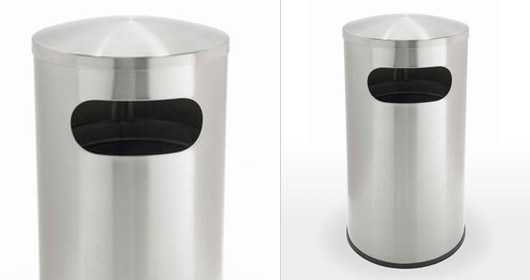 The Allure garbage can has long-term performance with low maintenance for operators of convenience stores, gas stations, restaurant, hotel, lunch rooms or other retail establishments or facilities.  The hygenic surface of the Allure has no pores to harbor dirt or bacteria, adding to the ease of maintenance.  The dome lid discourages placement of waste on top of the Allure.  The Allure waste receptacle is made of heavy-gauge steel and offers great structural integrity for long service. 
ADA Compliant
The large capacity of the Allure waste container means it will need to be emptied less often, freeing up your time to run your business or manage your department.
The side entry waste opening of the Allure trash bin is convenient for customers -- further lessening your maintenance requirements.
The rubber guard on the base protects your floor and keeps the Allure securely in place. The Allure's attractive stainless steel facade will enhance the decor of your property.
The Allure trash container's features include:
Stylish dome lid
Rubber guard on base
Cylindrical stainless steel container
Galvanized 15-gallon liner with handle
Features & Benefits